About Us
Inside Higher Ed is the daily news website for higher education professionals.
More than 1.5 million higher ed professionals a month from every academic discipline and every administrative area (site traffic measured by Google Analytics).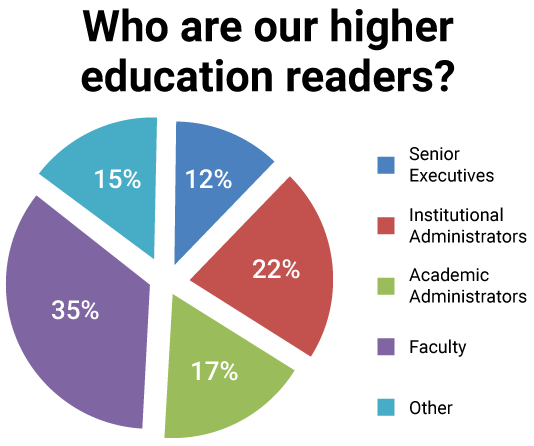 About 35% of our readers are academics, about 38% are institutional and academic administrators, and nearly 12% hold executive titles.
Readership is proportional throughout the country, and about 14% of our readers are outside the U.S. Our readers come from every kind of institution; about 13% are at community colleges.
And our readers are very diverse: nearly 20% are minorities and more than 55% are women.
Why Recruit with Inside Higher Ed?
REACH - 1.5 million unique individuals visit Inside Higher Ed each month, generating more than 4.2 million page views.
QUALITY - Our readers are not just active job seekers – they're the talented, employed professionals you most want to hire.
DIVERSITY - More than 20% of the candidates in our credentials bank are minorities, and more than 55% are women. Inside Higher Ed is proud of its extensive coverage of a wide range of diversity issues in higher education, including broad coverage of issues affecting veterans and people with disabilities.
CUSTOMER SERVICE - Our amazing recruitment advertising team will answer your questions quickly and completely and help you get your positions posted so you can start receiving applications from qualified candidates.
COMPLIANCE - Job postings on Inside Higher Ed fulfill Department of Labor requirements under 20 CFR 656.18, Optional Special Recruitment and Documentation Procedures for College and University Teachers, Inside Higher Ed is most definitely a national professional journal. Click hereto read more.
USER FRIENDLINESS - Post a job in minutes via our online form, or find out how to automate your job postings via our API.
COST EFFECTIVENESS - A 60-day posting is just $299, and a range of packages are available to bring per-postings costs down significantly. See our options and rates, above.
Login or register to post your job now.